Blog
Monday, 10 December 2018 00:00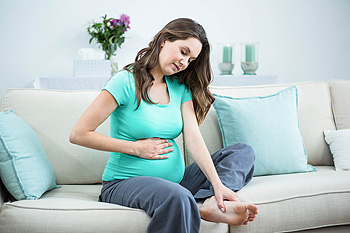 There are many women who enjoy being pregnant and look forward to the joys of motherhood, despite the fact they may experience swollen feet during their pregnancy. This condition is referred to as edema, which is the term used for water retention. If large amounts of sodium and caffeine are ingested, they could potentially accelerate the natural process of this uncomfortable condition. Fortunately, there are measures that can be taken that may provide moderate relief. These may include drinking plenty of fresh water daily, elevating your feet several times during the day, and performing gentle exercises that may aid in improving blood circulation. Research has shown the importance of rest and relaxation, in addition to wearing shoes that fit properly and are comfortable. Please speak with a podiatrist for additional information about the effects that pregnancy may have on the feet.
Pregnant women with swollen feet can be treated with a variety of different methods that are readily available. For more information about other cures for swollen feet during pregnancy, consult with Dr. Gary Prant from Arbor Foot Health Center. Our doctor will attend to all of your foot and ankle needs.
What foot problems can arise during pregnancy?
One problem that can occur is overpronation, which occurs when the arch of the foot flattens and tends to roll inward. This can cause pain and discomfort in your heels while you're walking or even just standing up, trying to support your baby.
Another problem is edema, or swelling in the extremities. This often affects the feet during pregnancy, but tends to occur in the later stages.
How can I keep my feet healthy during pregnancy?
Wearing orthotics can provide extra support for the feet and help distribute weight evenly
Minimize the amount of time spent walking barefoot
Wear shoes with good arch support
Wear shoes that allow for good circulation to the feet
Elevate feet if you experience swelling
Massage your feet
Get regular, light exercise, such as walking, to promote blood circulation to the feet
If you have any questions please feel free to contact our office located in Austin, TX. We offer the newest diagnostic and treatment technologies for all your foot and ankle needs.
Read more about Foot Care for Pregnant Women
Monday, 03 December 2018 00:00
When the blood circulates properly, the correct amount of nutrients and oxygen is supplied in adequate amounts to the organs and other areas of the body. The condition that is known as poor circulation can cause uncomfortable health problems, which may lead to the development of a serious illness. Research has shown there are several warning signs that may be indicative of poor circulation, including experiencing a numbing sensation in the feet, a decrease in the ability to think sharply, or frequently feeling tired. Additionally, there are patients who may feel a tightening of the chest, or notice their feet are cold most of the time. If you are experiencing a tingling sensation or a loss of feeling in your feet, it is suggested to consult with a podiatrist for a proper diagnosis.
While poor circulation itself isn't a condition; it is a symptom of another underlying health condition you may have. If you have any concerns with poor circulation in your feet contact Dr. Gary Prant of Arbor Foot Health Center. Our doctor will treat your foot and ankle needs.
Poor Circulation in the Feet
Peripheral artery disease (PAD) can potentially lead to poor circulation in the lower extremities. PAD is a condition that causes the blood vessels and arteries to narrow. In a linked condition called atherosclerosis, the arteries stiffen up due to a buildup of plaque in the arteries and blood vessels. These two conditions can cause a decrease in the amount of blood that flows to your extremities, therefore resulting in pain.
Symptoms:
Some of the most common symptoms of poor circulation are:
Numbness
Tingling
Throbbing or stinging pain in limbs
Pain
Muscle Cramps
Treatment for poor circulation often depends on the underlying condition that causes it. Methods for treatment may include insulin for diabetes, special exercise programs, surgery for varicose veins, or compression socks for swollen legs.
As always, see a podiatrist as he or she will assist in finding a regimen that suits you. A podiatrist can also prescribe you any needed medication.
If you have any questions, please feel free to contact our office located in Austin, TX. We offer the newest diagnostic and treatment technologies for all your foot care needs.
Read more about Causes Symptoms and Treatment for Poor Circulation in the Feet